Our Customer Success Stories take a deep dive into a specific KEA project and explore the impacts we had for our architects, developers and building owner clients.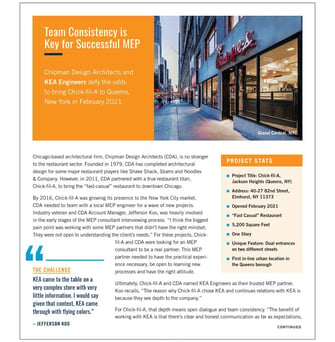 Chicago-based architectural firm, Chipman Design Architects and KEA Engineers join forces and defy the odds to bring restaurant Titan, Chick-fil-A to Queens, New York amid the COVID-19 Pandemic.
This month, we highlight a recent restaurant project: Chick-Fil-A, Jackson Heights, located in the Queens Borough of New York City.
KEA held in-depth interviews with client Account Managers and our own Project Management team, who were directly responsible for this project. In this success story, they share:
- The ingredients required to be a true MEP partner
- Communication expectations throughout a project
- How KEA Engineers helped drive project success
"...Because of how well KEA is learning and growing and becoming even better with each store; it's reflective of all of us." - Jefferson Koo, Chipman Design Architects Account Manager
This, our second Customer Success Story, highlights an extraordinary Queens, NY project: Chick-fil-A, Jackson Heights. This was a challenging and rewarding project that actually completed construction in February 2021, during the depths of the COVID-19 Pandemic. KEA Engineers was proud to be the MEP Engineers on the job. A big thanks to Chipman Design Architects for agreeing to be featured in this Customer Success Story and a bigger thanks to Jefferson Koo and our own Brandon Aiese for their time and thought provoking interviews.
Learn more about Chick-fil-A, Jackson Heights and the architect that chose KEA Engineers to bring it to life by clicking the link above and stay tuned for more Customer Success Stories in the coming months. We know our clients have many more stories to tell.
Do you have a challenging project story to tell? Contact Sales & Marketing Manager, April Duncza at 732-635-0044 or via email at aprild@keaengineers.com to schedule an interview. Let's tell your story!