Happy Autumn! This month, KEA Engineers continues our series of
MEP Customer Success Stories

.
Our Customer Success Stories take a deep dive into a specific KEA project and explore the impacts we had for our architect, developer and building owner clients.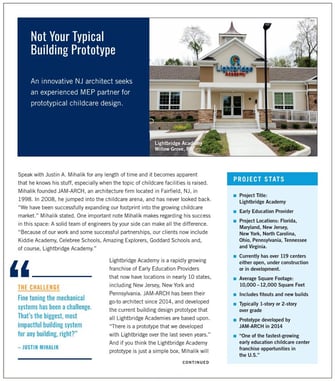 An innovative New Jersey Architect seeks an experienced MEP partner for prototypical childcare design...
While previous Success Stories have focused on KEA Engineers' impact on a single project, this month our spotlight lands on our collective work with Lightbridge Academy and JAM-ARCH.
For this Success Story, KEA held in-depth interviews with JAM-ARCH founder, JAM-ARCH Project Manager and our own Lightbridge Academy team. Together, they share:
- The challenges one faces when designing for a national brand
- Outsourcing MEP vs. MEP Partnership
- How KEA addressed complex mechanical system concerns
"...You can't replace the long-term relationship and solid partnership I have with KEA. That's why I keep working with them." - Justin Mihalik, JAM-ARCH Founder and Principal
This, our third Customer Success Story, highlights an interesting and ongoing design project for New Jersey architects JAM-ARCH and MEP Engineering Consultants, KEA Engineers. JAM-ARCH designed the prototype for all Lightbridge Academy locations, and joined forces with KEA Engineers to help meet some of the design challenges faced. KEA Engineers is proud to work with JAM-ARCH on this project. A big thanks to Justin Mihalik and Kevin Miranda of JAM-ARCH and a special thanks to our own Premal Solanki for his time as well.
Learn more about Lightbridge Academy and the prototype design by clicking the link above and stay tuned for more Customer Success Stories in the coming months. We know our clients have many more stories to tell.
Do you have a challenging project story to tell? Contact Sales & Marketing Manager, April Duncza at 732-635-0044 or via email at aprild@keaengineers.com to schedule an interview. Let's tell your story!