Happy Spring! Today, KEA Engineers continues our series of
MEP Customer Success Stories

.
Our Customer Success Stories take a deep dive into a specific KEA project and explore the impacts we had for our architect, developer and building owner clients.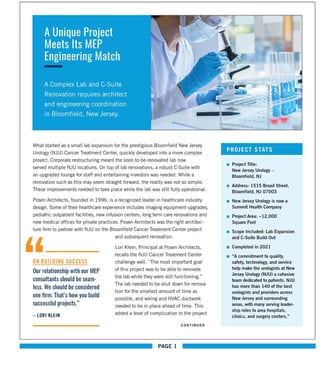 A complex lab and C-suite renovation requires respected architect, Posen Architects, to call on KEA Engineers...
Healthcare projects can be complex, be it a new build or a renovated space. It's important to have the right team of architects and engineers on board, and this month we focus on a great example of just such a team.
For this Success Story, KEA held in-depth interviews with Posen Architects Principal, Lori Klein, and our own Mechanical Engineer and Project Manager, David Saliski. Together, they share the unique challenges faced when renovating a space that needs to remain fully functional.
"...With KEA, you'll get first-class engineering without having to jump to Manhattan. I have the utmost faith in the KEA team." - Lori Klein, Posen Architects Principal
This is our fourth Customer Success Story, and it highlights the importance of having a solid team with the right experience under their belt. Posen Architects has extensive experience in the healthcare industry and has worked with KEA Engineers on many healthcare projects. This duo proved to be the right fit again for this Bloomfield New Jersey Urology renovation and expansion. A big thanks to Lori Klein of Posen Architects and a special thanks to our own David Saliski for his time as well.
Learn more about New Jersey Urology and the Bloomfield, NJ renovation by clicking the link above and stay tuned for more Customer Success Stories. We know our clients have more stories to tell.
Did KEA Engineers help your challenging project meet with success? Contact Sales & Marketing Manager, April Duncza at 732-635-0044 or via email at aprild@keaengineers.com to schedule an interview. Let's tell your story!