Our Customer Success Stories take a deep dive into a specific KEA project and explore the impacts we had for our architects, developers and building owner clients.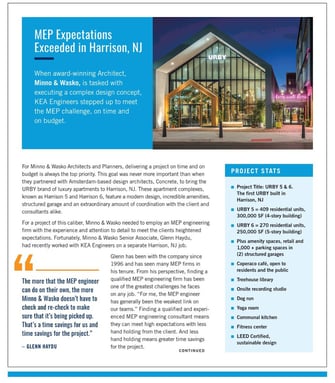 When award-winning architect, Minno & Wasko, is tasked with executing a complex design concept, KEA Engineers stepped up to meet the MEP challenge, on time and on budget
This month, we highlight our recent residential project: URBY Harrison 5 & 6, a fantastic Harrison, NJ multi-family development.
We held in-depth interviews with client Project Managers, Directors, along with our own KEA team who were directly responsible for this project. In this success story, they share:
- Developing a winning collaboration approach
- Finding experienced MEP professionals
- How KEA Engineers helped drive project success
"The more that the MEP engineer can do on their own, the more Minno & Wasko doesn't have to check and recheck to make sure that it's being picked up. That's a time savings for us and time savings for the project." - Glenn Haydu, Minno & Wasko Senior Associate
Our first Customer Success Story highlights a fantastic Harrison, NJ multi-family residential project: URBY Harrison 5 & 6. This project was a massive undertaking by the entire team, and KEA Engineers was so proud to be the MEP Engineers on the job. A big thanks to Minno & Wasko Architects and Planners for agreeing to be featured in our first ever Customer Success Story and a bigger thanks to Glenn Haydu and Ryan Shoop for their time and thought provoking interviews.
Learn more about URBY Harrison 5 & 6 and the architect that chose KEA Engineers to bring it to life by clicking the link above and stay tuned for future Case Studies and Customer Success Stories. We know our clients have many more stories to tell.
Do you have a challenging project story to tell? Contact Sales & Marketing Manager, April Duncza at 732-635-0044 or via email at aprild@keaengineers.com to schedule an interview. Let's tell your story!