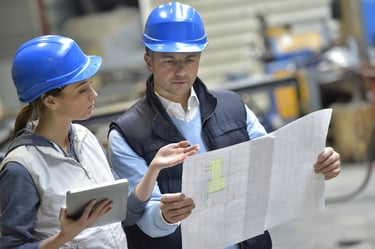 A quick Google search of "MEP Engineering" returns a lot of different firms and various definitions, but at the basic level MEP Engineering is Mechanical, Electrical and Plumbing Engineering. The design of these three disciplines provides engineering and design documents for obtaining building permits, soliciting construction bids, and provides a road map for the tradesmen as to how to build out the project. MEP design makes the building suitable for occupancy in a safe, practical, economical and efficient way. When these engineering tasks are designed separately, it often creates coordination issues. Therefore, it is advantageous when Mechanical, Electrical and Plumbing systems can be designed by a team of MEP Engineers that have been working together for years, creating a cohesive atmosphere.

There are many additional benefits to working with a skilled MEP firm. Among them are planning, utility needs calculations, energy and other codes considerations, prudent designing, performing the needed calculations, accurate documentation, and attention to the client's budget and schedule. Facilities that need and can benefit from excellent MEP engineering may include a variety of project types including: commercial projects, residential buildings, restaurants, retail, warehouses, industrial facilities, medical, educational and institutional facilities.

MEP engineering specifically encompasses the in-depth design and selection of Mechanical, Electrical and Plumbing systems, as opposed to a trades person simply installing equipment. For example, a plumber may select and install a commercial hot water system based on common practice and regulatory codes. However, a skilled team of MEP engineers will research the best design according to the principles of engineering, hot water demand needs of the client, as well as construction and energy code requirements. The MEP team then supplies the installers with the drawings and specifications needed for a successful project. As a result, engineers working in the MEP field must understand a broad range of disciplines, including dynamics, mechanics, fluids, thermodynamics, heat transfer, chemistry, electricity, and computers. The end result saves the client potential time and money.

The bottom line is that MEP Engineering is just as important to any construction project as architecture or structural engineering. MEP Engineering is not a place to cut corners and you want to be sure you have a reputable and knowledgeable firm on your team.
Learn more about MEP Engineering best practices.